FAQ's
FAQ's
Welcome to my FAQ section, this will help guide you through the ordering process should you be stumped when in the webshop.
I try my best to keep the options transparent and uncomplicated so as not to overload you with too much information when in the webshop, but equally, there is plenty of flexibility for you as a parent to put together a pack that will suit your individual needs whether you have the one child, or two or three within the same school, or even multiple schools that I work with.
So, at the start of the process when I book with a school, I upload the class lists supplied to me onto my system so that your child's image will be attached to his or her name, this is why I ask parents to register online so that after the shoot, when the images have been edited and uploaded online, you will receive an email with a link to your child's images. You can view the images online, order a pack, individual prints or digital downloads and any physical products will be delivered to your front door, hassle-free for both you and the school.  So how does that process look?
Registering:
With every school, I send out an E-Flyer in advance of the upcoming shoot, and on that flyer are the details regarding the registration process, Each school gets its own unique access code which you input into my webshop on your first visit, The E-Flyer will look like this:
When you go to the webshop, www.shopmarkmcgrogan.com you enter the code seen above in large red letters into the box displayed on the screen, just below "Did you receive a code from us?"
Once you have entered your code, it will take you through to the actual registration screen: By registering you are only requesting a notification to let you know when your images are ready to view, this does not set up an account at this stage.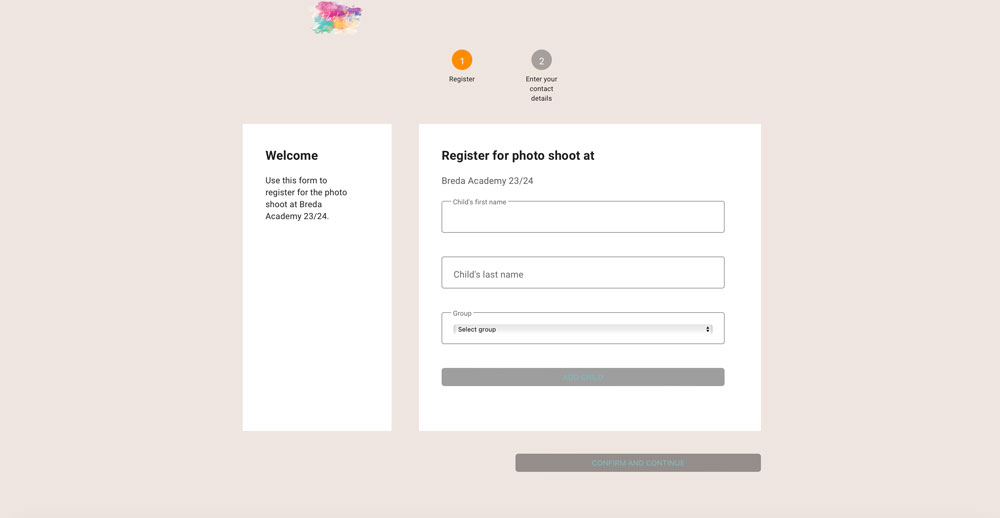 At this point, you will register your child's details and then your own. For your child, you enter their first name, second name, and then their group, The group will be their class for primary or year group for secondary, which will come up once you press the drop-down button.
Please note: I see what you entered at your end and what the school has entered at their end, so if you enter your child's nickname instead of their name as on the school system, the system may not marry up the two names together and you may not receive your email/access code. This is one way to avoid any issues, if you can enter the child's name as the school would have it registered on their system.
The system then takes your details, name, and email so we can send your access code to view the images once live online. You simply have to wait for that email to come through, generally within 5-7 days of the shoot taking place. Do keep an eye on your emails and especially your spam folder as the big tech companies have a tendency to send business-related emails to junk.
Once you have received your access code via email you'll be back in the webshop once again, and here you then be asked to actually register an account to view your images, up to this point your details are only being used to keep your informed of the process but now you can set up an account which you can log in and out of when required and revisit year on year during your child's school journey.
 Please Note: We ask parents to register each year when new photos are being taken, again it is only to notify you when the photos are available to view. Due to GDPR etc. your new images each year do not appear in your account unless you register and receive a new updated code.
Ordering Online:
The front page of the website looks like this:
As you can see your child's images will be displayed down the left, There is a drop-down box beside the childs name which you can press to switch between multiple sets of images should you have more than one child in school, or to view from previous years sets of images also. To the right-hand side, you will see the packs available to you as well as your digital download options and multi-sheet options where you can design/layout your own print preferences. The Collections A, B, C, and D will come with mounts ready to display.
Along the top of the screen, you will see further options such as "View All Products" When you press that a second page will be displayed,
Product Packages takes you back to our Collections, Multi Photo Prints is where you can view individual prints, print only or with mounts and here you can create your own packs essentially. You will have a greater choice of flexibility depending on your budget and the number of children or grandparents you may be catering to. You will also see the price per print will reduce should you need to order multiple prints. Print-only options rather than mounted should offer better value also as the price of cardboard has risen in recent years with online shopping demands. Posters are large format prints and Canvas options, Keyrings, and Magnets are obvious and your Digital Portrait options are here also. Any Digital Portraits purchased go directly into your account online to download under "My Account" in the top right-hand corner.
Can I Mix & Match My Packs?
Yes!!!
You absolutely can,